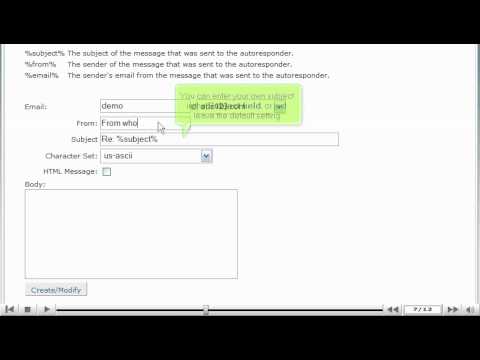 what is cpanel
This tutorial will guide you on how to create an auto-responder in cPanel. For the purpose of this guide, we'll presume that you're currently in
cPanel hosting
and therefore are viewing the primary display.
Let us begin to create a new email auto-responder in cPanel hosting. Select the Auto-Responders link under the Mail category. Once you have selected Auto-Responder a new display will appear the Auto Responders Page. First select the Add Auto-Responder button. Your page will refresh and this will be where you will create an auto-responder.
You may begin by entering the email address for which you wish to create an auto-responder. If you have multiple domains, be sure to choose the correct one for your auto-responder. Enter the From details as you wish to have them appear in the From Field of your auto-response. You may then enter your Subject Field or leave it as the default setting. The Character Set should usually, under normal circumstances, be left as is to us-ascii. There is an option of sending your auto-responses in HTML format, where as by default it will be sent in Plain Text. You may now type the Body of your auto-response and continue by selecting the Create/Modify button underneath.
A new display will appear with notice of your auto-responder success.
Let's go back to the Auto Responders Page, by selecting Go Back underneath the newly created auto-responder notice. Here you will see that you can create additional auto-responders, edit your existing ones, and/or delete which ever ones you wish in all.
Select the Home icon on the top left of the screen to return to the main page of the cPanel hosting screen. This is the end of the tutorial. You now know how to create an auto-responder in cPanel.
If you need any further assistance on how to create an Auto-Responder in cPanel,
please feel free to ask them on this thread!
How to create a sub domain in cpanel