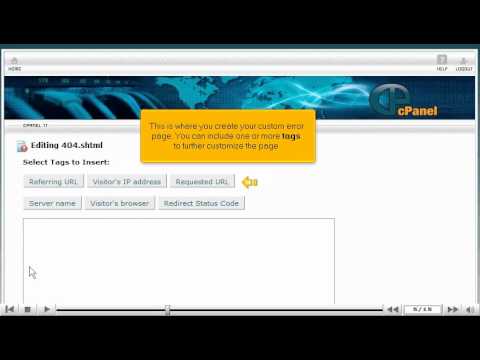 what is cpanel
This tutorial will guide you on how to create custom error pages in cPanel. For the purpose of this guide, we'll presume that you're currently in
cPanel hosting
and therefore are viewing the primary display.
Let us begin to learn how to create a custom error page in cPanel. Scroll down the cPanel hosting screen and select the Error pages link underneath the Advanced section of the cPanel hosting screen. Once you have selected Error pages a new display will appear the Error pages page.
There are several different error pages you can customize. In this tutorial, we are going to customize the 404 error page.
You may begin by selecting the 404 link. By doing so, your page will refresh to an Editing page. In this page you can create your custom error page. You may include one or more tags to further customize the page. You may also use HTML tags in your page to make it easy to match the look of your error page to the rest of your website.
Let's create a custom 404 error page. Type the text into the body box provided for you. Letís now use the Requested URL tag and scroll down to select Save. Once you have done so your page will refresh to a new display which will give confirmation that your custom error page has been saved successfully.
Let's go back to the Error pages screen, by selecting Go Back underneath the confirmation notice. You may customize any other listed error pages as you wish, but it is not mandatory for all accounts come with preset standard error pages.
You may always return to the custom error pages to edit existing error pages or customize different ones.
Select the Home icon on the top left of the screen to return to the main page of the cPanel hosting screen. This is the end of the tutorial. You now know how to create custom error pages in cPanel.
If you need any further assistance on how to create custom error pages in cPanel,
please feel free to ask them on this thread!
How to create a MySQL database in cpanel