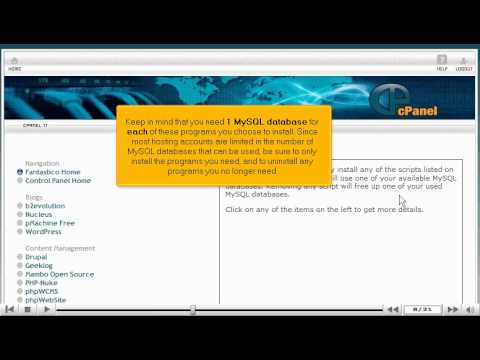 what is cpanel
This tutorial will guide you on how to use Fantastico in cPanel. For the purpose of this guide, we'll presume that you're currently in cPanel hosting and therefore are viewing the primary display.
Let us begin to learn how to use Fantastico in cPanel. Scroll down the
cPanel hosting
screen and select the Fantastico icon under the Software category. Once you have selected Fantastico a new display will appear the Fantastico page. Fantastico is an add-on to cPanel that allows you to install dozens of database-driven programs with just a few clicks. There are numerous programs available for installation through Fantastico which you can view on the left hand side of your screen.
Please note that you are required to use 1 MySQL database for each of these programs you select to install. Since most hosting accounts are limited in the number of MySQL databases that can be used, be sure to only install the programs you need and to uninstall any programs you no longer need.
Let's begin by installing one of these programs on the left hand side of the screen. Letís select the b2evolution link under the Blogs category. Each program on the left hand side has its own home page like this one for b2evolution, showing on your right hand side of the screen. To install b2evolution into your account, select the New Installation link. Type a directory name where the program is to be installed. Then type an Admin username within the Admin Access Data box and an Admin Password below. Also under the Base configuration section type a nickname to be used in b2evolution within the Admin nickname box and select the Install b2evolution button.
A new display will appear with a summary of your installation displayed under the Install b2evolution. If everything is correct, select the Finish Installation button.
A display will appear verifying your b2evolution installation success on the server within your cPanel hosting account. You may have this installation emailed to you by entering the email address you wish to send the details of this installation and select Send E-Mail.
Let's go to the top left hand side of the page and select the Fantastico Home Page link. You can return to the Fantastico page as many times as you want to install more programs or remove existing installations. Remember that you need one free MySQL database connection with every program installation planned.
Select on the Home icon on the top left of the screen to return to the main page of the cPanel hosting screen. This is the end of the tutorial. You now know how to use Fantastico in cPanel.
If you need any further assistance on how to use Fantastico in cPanel,
please feel free to ask them on this thread!
How to trace an email address using cpanel