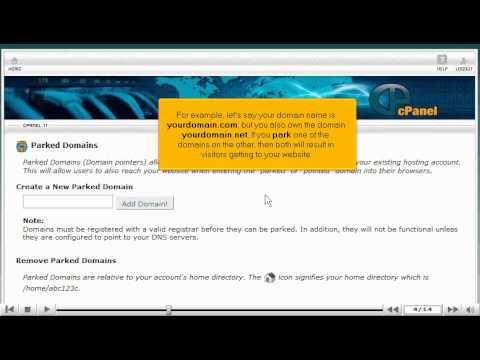 what is cpanel
This tutorial will guide you on how to park a domain in cPanel. For the purpose of this guide, we'll presume that you're currently in cPanel hosting and therefore are viewing the primary display.
Let us begin to learn how to park a domain in cPanel. We shall use the Parked Domains feature to park an additional domain name on this account. Scroll down the
cPanel hosting
screen and select the Parked Domains icon under the Domains category. Once you have selected Parked Domains a new display will appear the Parked Domains page.
Domain parking is useful when you have additional domain names that you want people to be able to use to get to your website. For instance, let's say your domain name is yourdomain.com, and you also own the domain name yourdomain.net, if you park one of these domain names on the other then both will result in visitors getting to your website. Please make note that domain parking will not work if you have not already updated the new domain's DNS (nameservers) to point to your account's DNS (nameservers), so be sure to do that with your registrar first.
Within the Parked Domains page, we may now begin by parking a domain on this account. Type the domain name you wish to park in the box underneath the Create a New Parked Domain and select Add Domain.
A new display will appear with notice of your newly parked domain success, therefore pointing to yourdomain.com account.
Let's go back to the Parked Domains page, by selecting Go Back underneath the newly added parked domain notice. You will notice that the newly parked domain is now listed below the domain section on your screen. You may remove domains which have already been parked by selecting the Remove link under Actions within the same row of the domain name wished to be removed. By selecting the Remove button, your page will refresh and you will be asked to confirm the removal; Select, Yes. There will then be a notice of removal success from the account.
Let's go back to the Parked Domains page, by selecting Go Back. You will now notice that the domain name you have just removed is no longer present underneath the Parked Domains listed.
You can return to the Parked Domains page to setup as many additional parked domains as your account plan will allow.
Select the Home icon on the top left of the screen to return to the main page of the cPanel hosting screen. This is the end of the tutorial. You now know how to park a domain in cPanel.
If you need any further assistance on how to park a domain in cPanel,
please feel free to ask them on this thread!
How to create a custom error page in cpanel