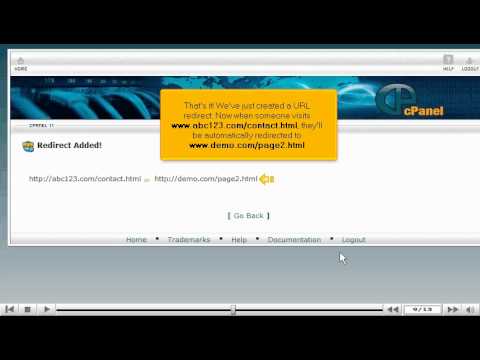 what is cpanel
This tutorial will guide you on how to manage URL redirects from cPanel. For the purpose of this guide, we'll presume that you're currently in
cPanel hosting
and therefore are viewing the primary display.
Let us begin to learn how to manage URL redirects from cPanel. Scroll down the cPanel hosting screen and select Redirects under the Domains category of your cPanel hosting screen. Once you have selected Redirects a new display will appear the Redirects page.
Let's add a URL redirect by first selecting whether you wish to have this redirect temporary or permanent by the provided dropdown next to Type under the Add Redirect section, select temporary. The next step is to type in the URL that you wish to redirect and type the destination URL where you want visitors to be redirected to. Then select Add.
A new display will appear with notice that we have just created a URL Redirect and the Redirect has been added. Now when someone visits the Redirected URL they will automatically be redirected to the Destination URL you have previously input.
Let's go back to the Redirects page, by selecting Go Back. Here you will see the URL Redirect that was just created underneath the Current Redirects section of the screen. You can also choose to remove the URL Redirects by selecting the circle with X inside under the Remove column. When you select the Remove button your page will automatically refresh to a confirmation that the Redirect has been removed.
You can set up as many URL Redirects as you wish, including redirects to other pages within your website or redirects to pages in other websites.
Select the Home icon on the top left of the screen to return to the main page of the cPanel hosting screen. This is the end of the tutorial. You now know how to manage URL redirects from cPanel.
If you need any further assistance on how to manage URL Redirects from cPanel,
please feel free to ask them on this thread!
How to setup email forwarding in cpanel