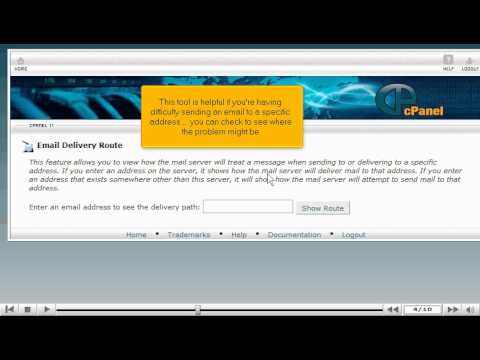 what is cpanel
This tutorial will guide you on how to trace an email address in cPanel. For the purpose of this guide, we'll presume that you're currently in
cPanel hosting
and therefore are viewing the primary display.
Let us begin to learn how to trace an email address in cPanel. Scroll down the cPanel hosting screen and select the Email Delivery Route icon within the Mail section of your cPanel hosting screen. Once you have selected Email Delivery Route a new display will appear the Email Delivery Route page where you can test any email address by tracing its route from your server. This is a very informative tool to find out what the situation is if you are having problems sending an email to a specific address.
Simply type the email address in the box to see the delivery path. Then select the Show Route button. By doing so you shall see the delivery route trace. From your cPanel hosting you will be able to look for problems and see if a problem lies with your server or on the other end where the destination email address is located.
Let's go back to the Email Delivery Route page, by selecting Go Back.
Select the Home icon on the top left of the screen to return to the main page of the cPanel hosting screen. This is the end of the tutorial. You now know how to check an email address by performing a trace from within cPanel.
If you need any further assistance on how to use trace an email address in cPanel,
please feel free to ask them on this thread!
How to use webmail in cpanel