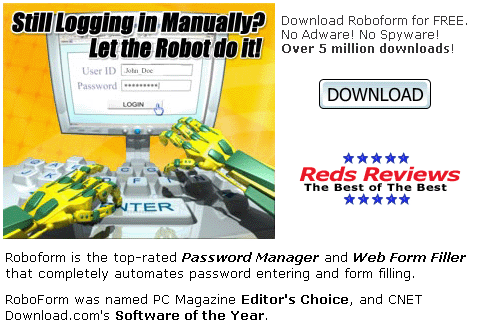 Software Publisher's Description
RoboForm memorizes and securely stores your online and offline passwords, so you will never forget them again. RoboForm automatically logs you into online accounts and completes online registration and checkout forms with one click. RoboForm gives your passwords and other personal data security (strong encryption provided), portability, and complete manageability. Passwords can be printed, copied to another computer, backed up, and restored.
RoboForm has earned PC Magazine's Editor's Choice Award with a Five Star rating and CNET's Software of the Year. The Wall Street Journal called RoboForm an "Innovative, lean, useful product." RoboForm contains no adware and no spyware and has been downloaded over 5 million times.
Click Here to download RoboForm
Click Here to download the BlueVoda Website Builder (Latest Version)