Google AdWords: Beyond the Basics!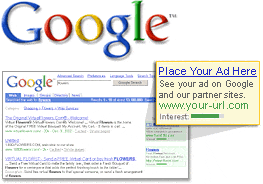 In our last post on Google AdWords, we looked at the basics of the Google AdWords system. We got you set up with AdWords, made a few decisions about your campaigns and picked a few keywords for them. We also created a few Ads. In this, the 2nd part of the Google AdWords post we'll be going beyond the ads themselves and we'll be looking at where they will be placed on the web and how you can keep track of how successful your campaigns have been – so that you can go back and make all the modifications you need to the things we discussed in Part 1: The Basics.
If you haven't read Part 1 yet, please click here to read it first. Reading Part 1 before starting here is essential for your understanding of the Google AdWords system.
Okay then; let's move on and see if we can't expand the reach of your Google AdWords campaigns!…
The Google Content network: Reaching Customers on Relevant Websites
To say the Google Content Network is large is an understatement! The Google Content Network is a truly vast and profitable place; a diverse network of different kinds of sites that partner with Google. On this network, you can show your AdWords Ads to potential customers when they're looking at sites related to your products or services – Did you know that in addition to showing your AdWords ad on Google search, you can also show it on relevant websites that your customers visit?
The AdWords Essentials
Internet users spend the majority of their time online searching for and browsing through websites. By using Google Adwords to advertise on both search and the content network, you can reach your target audience (whoever they may be) no matter what they are doing online.
When your Ad campaign (a part of your AdWords account that lets you to focus your advertising on specific products or services. The ads in any particular campaign share the same daily budget, language and location targeting. Each campaign can contain multiple ad groups) is opted into the Google content network, the AdWords system automatically matches your Ads to relevant content on websites right across the Internet. This is great news, because it means your message is matched to the right audience at the right time.
If we return to our examples from Part 1 and you're selling computer systems, the Google system may place your ad next to a news article that reviews the latest Computer products. With Google AdWords, you can be sure from the very outset, that a user who is looking at this web page is likely to be interested in your product.
Tips for Getting the Most out of your Content Network Campaign
To get the most out of advertising on the Google content network make sure that you create a tightly themed campaign that represents your business properly.
Creating a tightly themed campaign will help the Google AdWords system match your ad with the most relevant websites on the Internet. The good news is that the tips you find here for creating effective ads and picking effective keywords on search also apply to your performance on the content network. You should continue to follow best advertising practices like always using a strong call to action in your ad (Click here!) and making sure you have clear themes in your ad text that match with your keywords.
Used together, these simple actions on your part help the Google AdWords system to determine what your product or service is and match your Ads to relevant websites throughout the Google Content Network.
How to Review your Performance
To really understand what's working (and in doing so to conversely understand what's NOT working) for your Ads on websites throughout the Google Content Network you should go to the "Networks" tab of your AdWords account and click on "show details" beside your content placements.
Once here, you can review all of the websites your ads have shown on and you can see detailed statistics about each site that will help you understand and assess how your ads are performing. I'll show you more to help you learn more about measuring the performance of your AdWords ads a little further down this article.
On the Google Content Network the most important statistic to look out for by far is the clickthrough rate (CTR – A measure of the performance of your ads and keywords and a measure of how relevant users find your ads and keywords to their search query based on their clicks on your Ads. CTR helps measure ). CTR shows you how often folks about the Internet click on your Ad, it will give an indication of how well each website is performing. You should note here that CTR on the Google content network will generally be lower than for Search showings of your Ads.
After your Ads have been running on these websites for a period of time you will be able to use these metrics and statistics to see which are the best performing sites for you. You can then look at the possibility of individually managing your cost-per-click [CPC – The amount you pay each time a user clicks on your ad. You can set the maximum CPC bid (the maximum amount you are willing to pay when a potential customer clicks on your ad) at the ad group or keyword level] for the top websites and focus more budget on them. For more information on managed placements search for "managed placements" in the AdWords Help Centre.
Measuring and Understanding your Success
Google AdWords, it's all about results (you are, after all, advertising for a reason!). To make sure you're getting the best results possible you should aim to check the performance of your AdWords account on a regular and consistent basis.
As you work, you should always keep in mind what you want to achieve from your AdWords Ad campaign. Do you want traffic to your website? Do you want sales for your product or service? Or your visitors to take a specific action such as signing up to your newsletter? Once you've clearly defined your goals and know them back-to-front, you can use your AdWords statistics and the free tools available from Google to measure your success. Be realistic about what you want to achieve and try to set time aside to review your account regularly, to make sure you're reaching your goals.
What to Watch out for in your Account
The first, and easiest way to measure your success is to review your AdWords statistics.
What constitutes success with AdWords will be different for each business that uses it and will depend on what your own business goals are. However, there are a few things to look out for that will indicate your ads are running successfully:
Clickthrough Rate (CTR): To get an immediate idea of how well a campaign is doing, check out the CTR – how often people click on your ad after seeing it – for your campaign. As a rule of thumb, a Google AdWords CTR of under 1% indicates that your ads are not targeted to a relevant audience and not doing so well. Visit the "Campaigns" tab and view the CTR of your individual keywords and ads on the respective tabs.
Keyword Status: An "Eligible" state means your keyword is eligible to trigger ads. Clicking on the icon in the status column will give you more detail on the performance of your individual keywords. To view keyword status go to the "Keywords" tab and look under the "Status" column.
Average Position: Check the "Avg. Pos." column on the "Campaigns" tab in your account to find out where your ad is appearing on the search results page. There are up to 11 ads shown on any search page so if your average position is 11 or more your ad is, on average, not appearing on the first page of search results. You should aim to show your ad on the first page of search results so your potential customers can more easily find your ad.
First Page Bids: If your ad is not showing on the first page of search results then you will see first page bid on the "Keyword" tab under the "Status" column. A first page bid is the cost-per-click you need to set to get your ad showing on the first page of search results. High first page bid estimates can indicate that your ads are not as relevant as they could be.
Quality Score: Each of your keywords is given a quality score which can be found by clicking on the icon in the "Status" column on the "Keywords" tab. Google rewards relevant, quality advertising with a higher position on the search page and lower costs, so making sure your ads are high quality is really important.
Use the tips from this booklet to help you improve these stats.
Interested in delving deeper into your performance?
You may want to install conversion tracking or Google Analytics on your site. These free Google products allow you to analyze your account performance based on which keywords and ads convert into sales or leads, rather than purely those that direct traffic to your website.
Conversion tracking:
In online advertising, a conversion occurs when a click on your ad leads directly to user behavior you deem valuable, such as a purchase, signup, page view, or lead. Conversion tracking is a free way to monitor and evaluate how well your ad campaigns convert into meaningful actions like a sale.
Google Analytics:
Google Analytics is a free website analysis tool which can show you how people found your site, how they explored it, and what actions they took on your site. With this information, you can improve your website's return on investment, increase conversions, and ultimately make more money on the web.
For instructions on how to install these tools visit the AdWords Help Centre and search for "conversion tracking" and "Google Analytics
Checklist for Managing your AdWords account
The online world moves very quickly, so what works for you today may not be as successful next week. A weekly review of your account will help you make sure you're getting the most out of your advertising budget.
Here's a quick list of actions for you to follow every time you log in to your account. This will help you understand how your account is performing and whether you're meeting your business goals. Performance will vary by account so focus on identifying your best and worst performing keywords and ads, this will help when refining your account.
Remember to repeat this process regularly to continually build on your success.
Check notification and account alerts on the home page.
When you log in to your AdWords account you will see notifications and account alerts from Google. It's important to keep an eye out for these updates as they contain important information relevant to your account and will help you with your campaigns.
Go to the "Campaigns" tab and set the time range.
The time range setting can be found in the top right-hand corner of your account and should be set to a period of 1-4 weeks to get a good indication of recent performance.
Review your keyword performance.
Under the "Keywords" tab review:

Keyword clickthrough rate (CTR). Which keywords are receiving your highest and lowest CTR?

Position of your keywords. Are your ads appearing on the first page i.e avg. pos. of 1 -11?
Keyword status. Are your ads eligible to show?
Quality score. You can see the quality score for each keyword by clicking on the icon in the status column.

Review your ads performance.
Under the "Ads" tab review:

Ad CTR. If you are testing multiple ads in each ad group check to see which are performing best.

Refine your keywords and ads.

Look out for your top performing keywords and ads. Change those that are not doing well, using your best performers as a guide as to how they can be improved.
Delete those keywords and Ads that have performed poorly consistently.
Use negative keywords to eliminate unwanted impressions.

Finally, test new keywords and ads for your campaigns.

Use the AdWords Keyword Tool to get keyword suggestions to add to your campaign.
If you don't have multiple ads in each ad group, you should try adding some to test which work best for you.
If you have enabled conversion tracking, you should make sure you regularly check which of your Ads and keywords are best converting into sales.
Grow your business with AdWords!
We hope that you've found these articles helpful and that you're now fully armed to use and achieve truly great things with your AdWords account!
Finally, to make sure that you're not missing out on any of Google's online communications, check you're set-up to receive online updates from Google:
Log in to your AdWords account (visit: http://adwords.google.com/).
Select "Account Preferences" under the "My Account" tab
Locate "Notification Preferences" and click on "Edit".
Review, edit and save your preferences ("Customised Help & Performance Suggestions" & "Newsletters").
Further reading: How to Get Started with Google AdWords – Part 1: The Basics
Suggested reading: "The Secrets to Promoting Your Website Online" by VodaHost web hosting